Sister Reyna Terror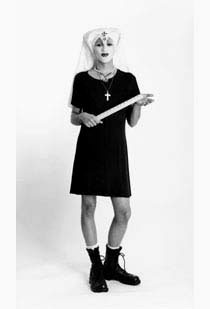 Sister Bea Attitude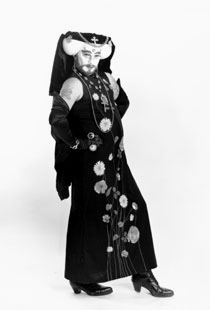 Sister Merry Mae Himm
Sister Gina Tonic and Lucy Furr
My first encounter with the Sisters of Perpetual Indulgence was in the autumn of 1982. I met Sister Missionary Position (now known as Missionary P. deLight) at a dinner party with filmmaker James Broughton and several other interesting gay men. What made them particularly interesting to me was that they were all wearing dresses, or caftans, or skirts. Being always the eager photographer, I created a photo collage portrait of the group, and that is how I remember the event. Sister Mish talked a little about the Sisters of Perpetual Indulgence, explaining that he had studied to be a priest with the Capuchin Franciscan friars until he was rejected when he confessed to gay feelings. The Sisters of Perpetual Indulgence became his way of perpetrating good deeds while playfully combining political activism and religious drag.
In 1980 Sr. Hysterectoria designed the first habits after a Flemish14th century ladies-in-waiting and French cloister's wimple, and through a San Francisco City grant, commissioned the first set of habits and "Ear Brassieres."
The Sisters made their first public appearance in 1980 at a march and rally in San Francisco against nuclear power on the first anniversary of the Three Mile Island disaster. Some organizers warned them not to participate. They were politically incorrect. They were drag queens. The Sisters did in fact participate, jumping between the giant Mutant Sponges from the Farralon Islands and some Haight Street hippies pushing a coffin marked Capitalism. Carrying the banner created by Sr. Secuba, the Sisters performed their "Rosary in Time of Nuclear Peril," a meditation on The Five Sorrowful Nuclear Realities: The U.S. bombing of Hiroshima, the U.S. bombing of Nagasaki, Karen Silkwood killed in Oklahoma, the Chernobyl disaster in Russia, and Three Mile Island. This was alternated with cheerful black and white pompom routines. That first official outing established the range of the ministry of the Sisters of Perpetual Indulgence, from silly satire to thoughtful spirituality to political button-pushing.
By August 1980 they were front-page San Francisco news, chasing the Christians out of the Castro and the Polk neighborhoods. The Sisters have done much for numerous causes and groups through the years, all for the service of our community. Their first fundraiser with Sisterly flair was a church hall bingo/disco salsa dance party benefit for gay Cuban refugees at the Metropolitan Community Church. So many people turned out for the event that a second seating had to be thrown together to accommodate all of the bingo players. Twenty years later they have raised and distributed hundreds of thousands of dollars for a variety of charitable causes benefiting a wide spectrum of the population, from AIDS to breast cancer to homeless youth to poor people to arts projects. They organized the first fundraiser for people with AIDS. They published the first safer-sex pamphlet called "Play Fair" at the start of the AIDS epidemic, when the disease was known simply as "gay cancer". They also continually lend a hand to political causes near and dear to their hearts like officiating at same-sex weddings and helping raise awareness of the medical uses of marijuana. They are especially attracted to progressive projects that promote queer wellness and identity as well as diversity within our communities.
And not only in San Francisco. The Sisters of Perpetual Indulgence have made pilgrimages across the United States, establishing convents and missions in such far-flung locales as Seattle, Denver, New Orleans, Los Angeles and Vancouver. In 1991, Sister Vicious Power Hungry Bitch and Sister X evangelized in Europe and elsewhere, where there are now numerous convents of Perpetual Indulgence in Germany, France, and England. As each convent has sent missionaries out in the world, the message has been multiplied, and it is said that there are convents and missions in such places as Australia, Thailand, New Zealand, Scotland and the former Soviet Union.
They are often guests on radio and television talk shows as well as universities and college campuses where they are asked to speak about homosexuality, human rights, freedom of expression, AIDS and the politics of drag.
The Sisters of Perpetual Indulgence vow to "Promulgate Universal Joy and Expiate Stigmatic Guilt." Initially met with shock and amazement, they certainly capture everyone's interest. They employ the sanctifying grace of camp humor as a survival strategy and for social and spiritual transformation. What started out for me as a study of cross-dressing "anti-religious" outlaws, has evolved into a deep appreciation for a radical, colorful, and charitable organization. Hallelujah!